Sobre fadas e confiança: Um ano de governo Macri
Alexandre Jerônimo de Freitas

UFRRJ

Marcelo Fernandes

UFRRJ
Abstract
O objetivo deste artigo é fazer uma análise da economia argentina no primeiro ano do governo Macri. Mostraremos que a propalada busca pela confiança, através medidas que reduzem o papel do setor público não alcançaram resultados favoráveis como previram as autoridades econômicas.
Downloads
Download data is not yet available.
References
Amico, F. (2013) Crecimiento, distribución y restricción externa en Argentina. Circus, Revista argentina de economía, Nº 5.
Barreiro, R. (2016). "Devaluación y fondos buitre, los hitos de un año de gestión Alfonso Prat-Gay". El Pais. 26 de dezembro de 2016.
BCRA (Banco Central de la República Argentina). (2016). "Informe Monetario Mensual. " Outubro de 2016.
Considine, J. Duffy, D. (2016). "Keynes and the confidence faeries" Cambridge Journal of Economics, nº 40, 309–325.
Clarin (2016). Carrió le pegó duro a Prat-Gay por pedirles perdón a los empresários españoles. 1º de junho de 2016.
INDEC (2015a). Cuentas Nacionales: Series trimestrales de Oferta y Demanda Globales (2004-2016).
INDEC (2015b). Estimación de la Posición de Inversión Internacional (Años 1991-2015).
Keynes, J.M. [1929] (1978). Can Lloyd George Do It Again? In E. Johnson & D. Moggridge (Eds.): The Collected Writings of John Maynard Keynes. Royal Economic Society.
__________ [1936) (1996) A teoria Geral do Emprego, do Juro e da Moeda. Editora Nova Cultural.
King, L. Kitson, M. Konzelmann, S. Wilkinson, F. (2012) "Making the same mistake again—or is this
time diferent" Cambridge Journal of Economics, nº26, 1–15.
Kulfas, M. (2014). La economía argentina, entre la «década ganada» y los «fondos buitre». Revista Nueva Sociedad nº 254, 4-16.
Yebra, M. R. (2016) "Prat-Gay pidió 'perdón' a los inversores españoles por los 'abusos` del kirchnerismo". La Nacion. 30 de maio de 2016.
Varesi, G. A. (2016) Tiempos de restauración. Balance y caracterización del gobierno de Macri en sus primeros meses. Revista Realidad Económica, nº 302, 6-34.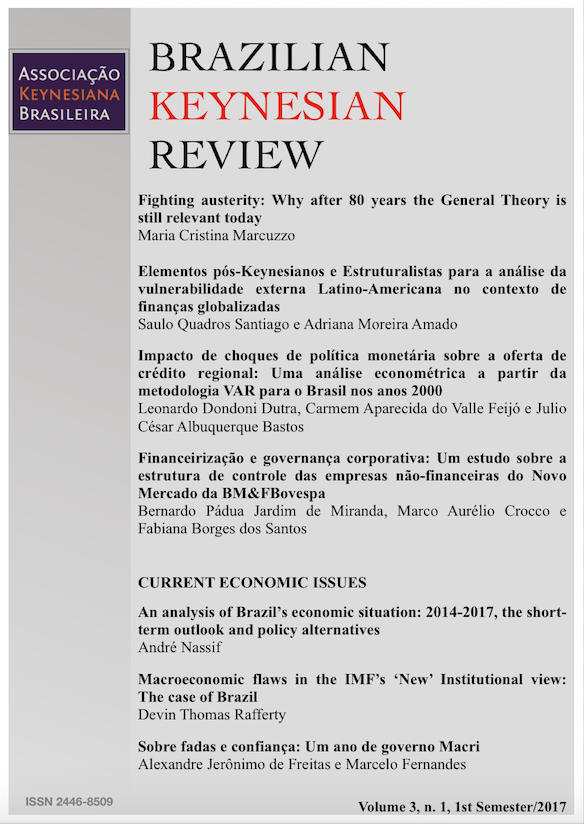 How to Cite
de Freitas, A. J., & Fernandes, M. (2017). Sobre fadas e confiança: Um ano de governo Macri. Brazilian Keynesian Review, 3(1), 124-131. https://doi.org/10.33834/bkr.v3i1.102
Section
Current Economic Issues
Authors keep copyrights and concede to the Journal the right to the first publication, with the paper simultaneously licenced under the Creative Commons Attribution 4.0 International License which allows recognised author and journal work sharing.
Authors are authorized to assume additional contracts separately, for non-exclusive versions of the paper published in this journal (e.g.: publish in an instituional repository or as a book chapter) with the recogntion of authorship and initial publication in this journal.
Authors are allowed (and are estimulated) to publish and distribute their work online (e.g.: in institutional repositories or at their personal websites) at any point before or during the editorial process, once this may generate productive alterations on the paper, as well as increse the factor of impact and quotation of the published paper (please, see Free Access Effect)