O Brasil bateu no piso?
Carlos Pinkusfeld Bastos

IE/UFRJ

Gabriel Ferraz Aidar

IE/UFRJ
Abstract
O presente texto adotará como perspectiva teórica a determinação do nível de produto e emprego o Princípio da Demanda Efetiva, inclusive a sua validade como determinante do crescimento de longo prazo. Partindo-se deste referencial, tal piso não é teoricamente garantido, dependendo do desempenho dos componentes autônomos da demanda efetivamente dispendida por agentes privados e governo dentro da economia de um país e da demanda do resto do mundo através das exportações. A utilização dos fatores de produção, no curto prazo e a capacidade produtiva no longo, ou seja, a oferta agregada efetiva e potencial, responderiam a tais decisões de demanda.
Downloads
Download data is not yet available.
References
Auerbach, Alan J., and Yuriy Gorodnichenko. 2017. "Fiscal stimulus and fiscal sustainability." Berkeley, CA: Berkeley University https://www.kansascityfed.org/~/media/files/publicat/sympos/2017/auerbachgorodnichenko-paper.pdf?la=en
Bastos, Carlos P. e Lara, Fernando M (2015) "2015: novo 2003 ?" in Austeridade para quem? Balanço e perspectivas do governo Dilma Rousseff (org) Luiz Gonzaga de Mello Belluzzo e Paulo Zahluth Bastos – São Paulo : Carta Maior ; Friedrich Ebert Stiftung,
Bivens, Josh (2016). "Why is Recovery Taking So Long – and Who's to Blame?" Economic Policy Institute url : http://www.epi.org/publication/why- is- recoverytaking-so-long-and-who-is-to-blame/
Freitas, Fabio N. P.; Ferrari, M. A. R.; Filho; Nelson B. (2013) "A Taxa de Câmbio Real e a Restrição Externa: Uma Proposta de Releitura com Elasticidades Endógenas " Revista de Economia Politica, vol. 33, n. 1 (130), pp. 60 - 81, janeiro - março: 2013
Medeiros, C. Inserção externa, crescimento e padrões de consumo na economia brasileira. Brasília, DF: IPEA, 2015 (http://www.ipea.gov.br/portal/images/stories/PDFs/livros/livros/20150415_livro_insercao-externa.pdf).
Medeiros, C. e Serrano, F. (2001) "Inserção externa, exportações e crescimento no Brasil", em Fiori, J. e Medeiros, C., eds., Polarização Mundial e Crescimento. Petrópolis: Vozes.
Kalecki, Michal (1990a, [1943]) "Political Asp ects of Full Employment" in J.Osiatynski (ed) Collected Works of Michal Kalecki, Vol 1. Oxford University Press 1990.
Orair, R., Siqueira, F., e Gobetti, S. (2016). "Política fiscal e ciclo econômico: uma análise baseada em multiplicadores do gasto público". XXI Prêmio do Tesouro Nacional.
Rezende, P. (2009) "The Nature of Government Finance in Brazil," International Journal of Political Economy, 38 (1): 81-104.
Serrano, F. e Pimentel, K. (2016) " Será que "Acabou o Dinheiro"? Financiamento do gasto público e taxas de juros num país de moeda soberana" (http://www.excedente.org/wp-content/uploads/2016/03/SERRANO-F.-e-PIMENTEL-K.-2017-Financiamento-do-gasto-p%C3%BAblico-e-taxas-de-juros-REC-2017-15-02.pdf)
SUMMA, R.; BRAGA, J. "Estimação de um modelo desagregado de inflação de custo para o Brasil", Working paper IE 14/2014, Instituto de Economia, UFRJ, 2014.
Summa, R., Lara e F., Serrano, F. (2017) " PIB, demanda efetiva e variação de estoques: uma visão pessimista do que já ocorreu em 2017" (http://www.excedente.org/blog/pib-demanda-efetiva-e-variacao-de-estoques-uma-visao-pessimista-do-que-ja-ocorreu-em-2017/)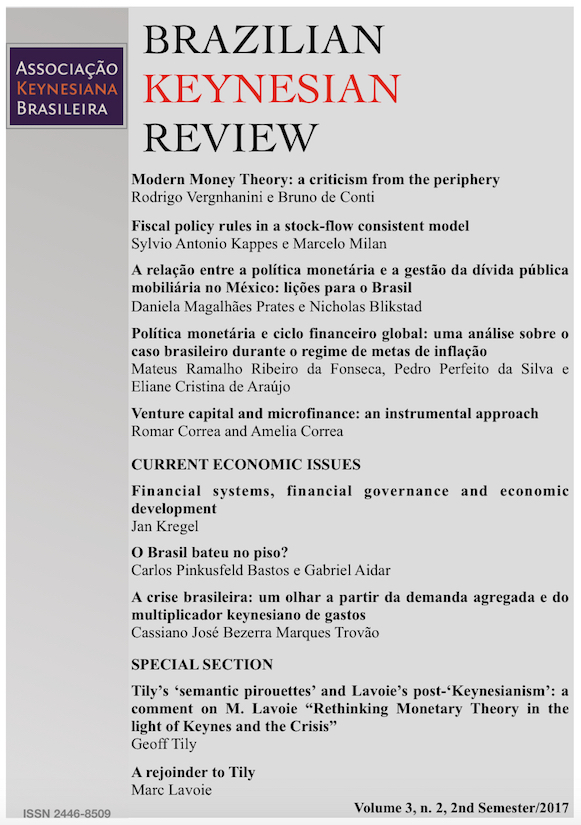 How to Cite
Bastos, C. P., & Aidar, G. F. (2018). O Brasil bateu no piso?. Brazilian Keynesian Review, 3(2), 130-149. https://doi.org/10.33834/bkr.v3i2.147
Section
Current Economic Issues
Copyright (c) 2018 Carlos Pinkusfeld Bastos, Gabriel Ferraz Aidar
This work is licensed under a Creative Commons Attribution 4.0 International License.
Authors keep copyrights and concede to the Journal the right to the first publication, with the paper simultaneously licenced under the Creative Commons Attribution 4.0 International License which allows recognised author and journal work sharing.
Authors are authorized to assume additional contracts separately, for non-exclusive versions of the paper published in this journal (e.g.: publish in an instituional repository or as a book chapter) with the recogntion of authorship and initial publication in this journal.
Authors are allowed (and are estimulated) to publish and distribute their work online (e.g.: in institutional repositories or at their personal websites) at any point before or during the editorial process, once this may generate productive alterations on the paper, as well as increse the factor of impact and quotation of the published paper (please, see Free Access Effect)