Revisionismo histórico e ideologia: as diferentes fases da política econômica dos governos do PT
Abstract
a maioria dos críticos dos governos do PT divide a política econômica brasileira de 2003-16 em apenas duas fases, pré e pós-2006, com base na mudança do comando do Ministério da Fazenda naquele ano. Esta classificação é simplista e fortemente ideológica, pois é possível discernir cinco fases distintas de política econômica de 2006 em diante, com base na evolução do cenário externo e das prioridades econômicas do governo. Este texto apresenta essa taxonomia e os números de crescimento do PIB e inflação em cada período.
Downloads
Download data is not yet available.
References
Abadie, A., Diamond, A. e Hainmueller, J. (2010) "Synthetic Control Methods for Comparative Case Studies: Estimating the Effect of California's Tobacco Control Program", Journal of the American Statistical Association, 105(490), p. 493-505.
Barbosa-Filho, N.H. (2008) "An Unusual Economic Arrangement: The Brazilian Economy during the First Lula Administration, 2003-2006", International Journal of Politics, Culture, and Society, 19(3-4), p. 193-215.
Barbosa-Filho, N.H. (2010) "Latin America: Counter-Cyclical Policy in Brazil: 2008-09", Journal of Globalization and Development, 1(1), p.1-14. DOI: 10.2202/1948-1837.1052.
Barbosa-Filho, N.H. (2015) "Monetary Policy with a Volatile Exchange Rate: The Case of Brazil since 1999", Comparative Economic Studies, 57(3), pp. 401-425.
Barbosa-Filho, N.H. e SOUZA, J.A.P. (2010) "A Inflexão do Governo Lula: Política Econômica, Crescimento e Distribuição de Renda", in: E. Sader e M. A. Garcia (Orgs.) Brasil: entre o Passado e o Futuro. São Paulo: Fundação Perseu Abramo e Editora Boitempo
Carrasco, V., de Mello, J. e Duarte, I. (2014) "A Década Perdida: 2003-12", Texto para Discussão, n.626, Departamento de Economia da PUC-Rio. Disponível em www.econ.puc-rio.br/uploads/adm/trabalhos/files/td626.pdf. Acessado em 07/09/2018.
Carvalho, L. (2018) Valsa Brasileira: do boom ao caos econômico. São Paulo: Todavia.
De Bolle, M. (2016) Como matar a borboleta azul: uma crônica da era Dilma. Rio de Janeiro: Intrínseca.
Dweck, E. e Teixeira, R. (2017) "A política fiscal do governo Dilma e a crise econômica", Texto para Discussão, n.303, Instituto de Economia da Universidade de Campinas.
Giambiagi, F. (2011) "Estabilização, Reforma e Desequilíbrios Macroeconômicos: os anos FHC (1995-2002)". In: F. Giambiagi, A. Villela, L. de Castro e J. Hermann (Orgs.) Economia Brasileira Contemporânea, Rio de Janeiro: Elsevier.
Haveelmo, R. (1945) "Multiplier Effects of a Balanced Budget', Econometrica, 13(4), pp. 311-318,
Lisboa, M. (2015), "O modelo de intervenção do Estado na economia se esgotou? Sim", Revista Época, Disponível em www.epoca.globo.com/ideias/noticia/2015/10/o-modelo-de-intervencao-do-estado-na-economia-se-esgotou-sim.html. Acessado em 07/09/2018.
Ministério da Fazenda (2018) Resultado Fiscal Estrutural, Brasília: Ministério da Fazenda. Disponível em www.fazenda.gov.br/centrais-de-conteudos/publicacoes/transparencia-fiscal/boletim-resultado-fiscal-estrutural. Acessado em 07/09/2018.
Safatle, C., Borges, J. e Oliveira, R. (2016) Anatomia de um Desastre, São Paulo: Portfolio-Penguin.
Werneck, R. (2010) "A Deterioração do Regime Fiscal no Segundo Mandato de Lula e Seus Desdobramentos", Texto para Discussão, n.587, Departamento de Economia da PUC-RJ.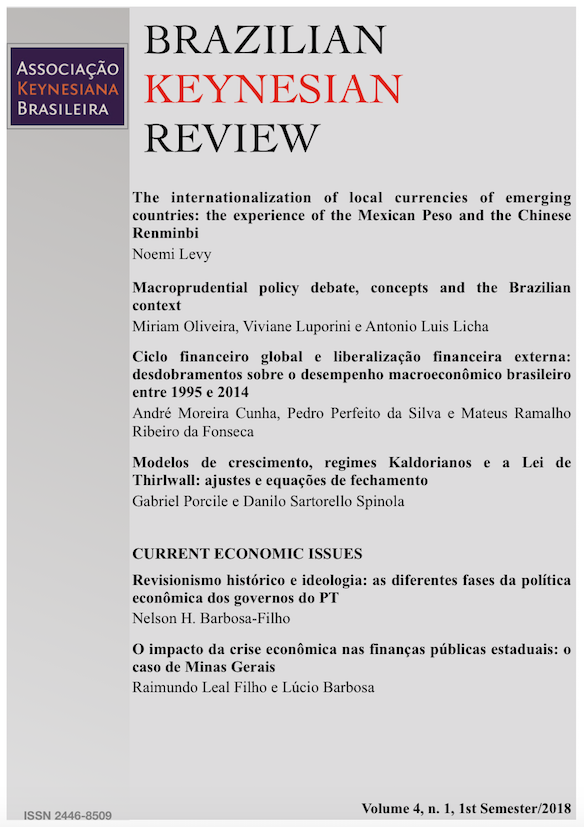 How to Cite
Barbosa-Filho, N. (2018). Revisionismo histórico e ideologia: as diferentes fases da política econômica dos governos do PT. Brazilian Keynesian Review, 4(1), 102-115. https://doi.org/10.33834/bkr.v4i1.160
Section
Current Economic Issues
Copyright (c) 2018 Nelson Barbosa-Filho
This work is licensed under a Creative Commons Attribution 4.0 International License.
Authors keep copyrights and concede to the Journal the right to the first publication, with the paper simultaneously licenced under the Creative Commons Attribution 4.0 International License which allows recognised author and journal work sharing.
Authors are authorized to assume additional contracts separately, for non-exclusive versions of the paper published in this journal (e.g.: publish in an instituional repository or as a book chapter) with the recogntion of authorship and initial publication in this journal.
Authors are allowed (and are estimulated) to publish and distribute their work online (e.g.: in institutional repositories or at their personal websites) at any point before or during the editorial process, once this may generate productive alterations on the paper, as well as increse the factor of impact and quotation of the published paper (please, see Free Access Effect)