Notes on 'The Flaws in Modern Monetary Theory' by Ricardo Carneiro
Abstract
This note comments the article 'Failures of the Modern Monetary Theory' published by Professor Ricardo Carneiro (Unicamp) in this Brazilian Keynesian Review. Agreements and disagreements with Carneiro's paper are shown. Moreover, some points not dealt with by him, but that I understand are crucial to assess some failures of the Modern Monetary Theory, are advanced here.
Downloads
Download data is not yet available.
References
Colander, D. (1984), Was Keynes a Keynesian or a Lernerian? Journal of Economic Literature, XXII, 1572-1577. https://www.jstor.org/stable/2725382.
Keynes, J. M. (1936[1964]), The general theory of employment, interest and money. Nova York: HBS.
Lerner, A. (1943), Functional finance and the federal debt. Social Research, 10 (1), 38-51. http://www.jstor.org/stable/40981939.
Minksy, H. (1986), Stabilizing an unstable economy. New Heaven: Twentieth Century Fund Report.
Minsky, H. (1992), The financial instability hypothesis. The Jerome Levy Economics
Institute Working Paper, (74), The Jerome Levy Economics Institute: Annandale-on-Hudson.
Tcherneva, P. (2006), Chartalism and the tax-driven approach to money. In P. Arestis; M. Sawyer (org.) Handbook of alternative monetary economics. Cheltenham: Edward Elgar, p.69-86.
Terra, F. (2019), A política fiscal pós-keynesiana. In C. Feijó; E. Araújo (org.) Macroeconomia moderna: lições de Keynes para economias em desenvolvimento. Rio de Janeiro: Elsevier, p.57-67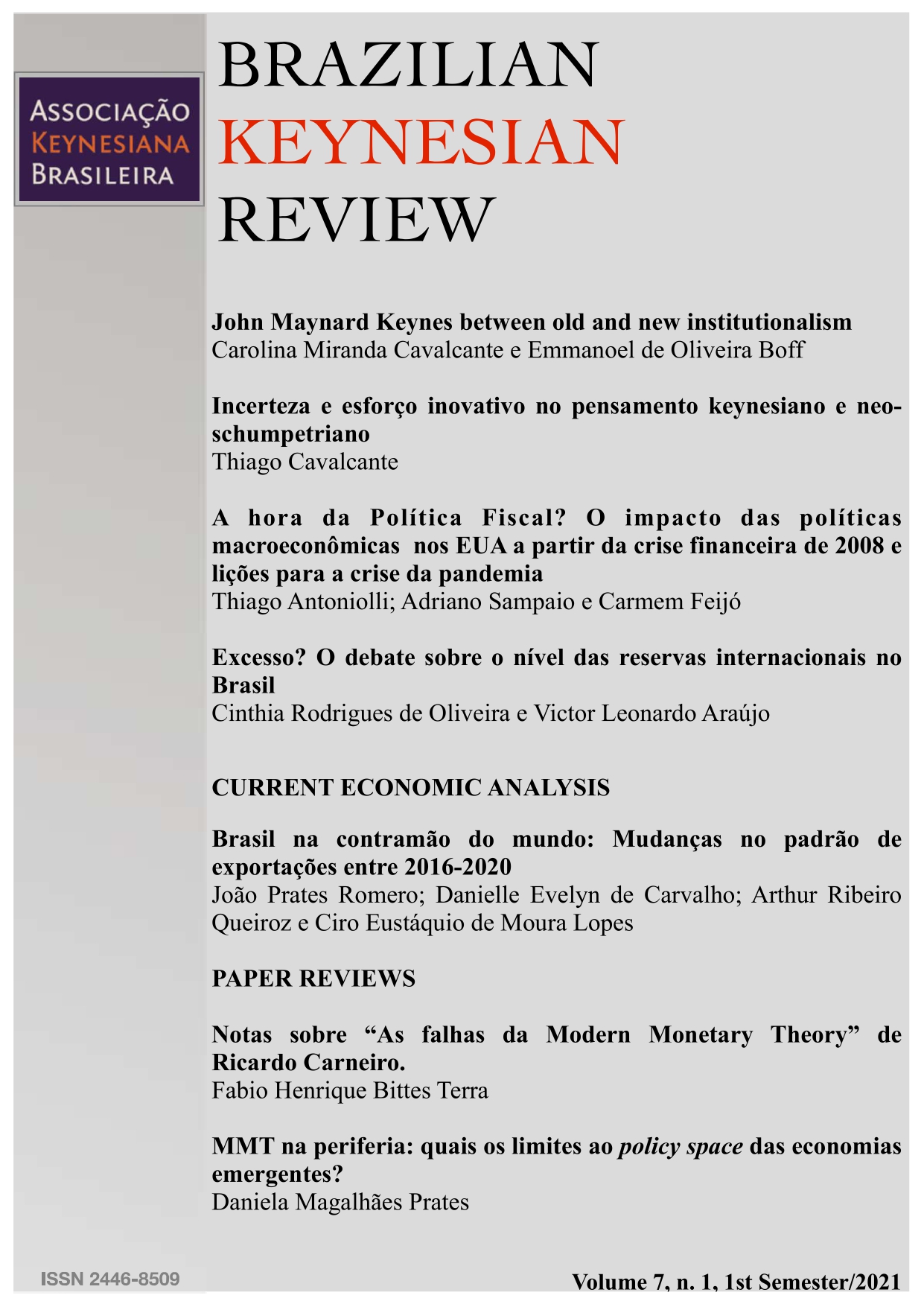 How to Cite
Terra, F. H. B. (2021). Notes on 'The Flaws in Modern Monetary Theory' by Ricardo Carneiro. Brazilian Keynesian Review, 7(1), 177-187. https://doi.org/10.33834/bkr.v7i1.253
Copyright (c) 2021 Fábio Henrique Bittes Terra
This work is licensed under a Creative Commons Attribution 4.0 International License.
Authors keep copyrights and concede to the Journal the right to the first publication, with the paper simultaneously licenced under the Creative Commons Attribution 4.0 International License which allows recognised author and journal work sharing.
Authors are authorized to assume additional contracts separately, for non-exclusive versions of the paper published in this journal (e.g.: publish in an instituional repository or as a book chapter) with the recogntion of authorship and initial publication in this journal.
Authors are allowed (and are estimulated) to publish and distribute their work online (e.g.: in institutional repositories or at their personal websites) at any point before or during the editorial process, once this may generate productive alterations on the paper, as well as increse the factor of impact and quotation of the published paper (please, see Free Access Effect)