BRAZILIAN ECONOMY: FOUR DECADES OF NEAR STAGNATION
Adalmir Marchetti

Pontifícia Universidade Católica do Rio Grande do Sul

Alessandro Donadio Miebach

Universidade Federal do Rio Grande do Sul
Keywords:
Brazilian economy, Labor productivity, Income distribution, Economic growth, Neoliberalism
Abstract
The article discusses the four decades of near stagnation and the possibilities of resuming economic growth in the Brazilian economy. While in the central countries there are indications of the abandonment of many central elements of neoliberalism, in Brazil there was the adoption of a late neoliberalism after 2016. The necessary condition for the resumption of economic growth in Brazil economy is the overcoming of late neoliberalism with the construction of a new social consensus.
Downloads
Download data is not yet available.
References
Amanhã (2018), Nova equipe econômica terá 9 nomes do governo Temer. Disponível em: https://amanha.com.br/categoria/economia/nova-equipe-economica-tera-9-nomes-do-governo-temer . Acesso em: 20 de ago. 2022.
Atlantic Council, (2022), The Biden White House plan for a new US industrial policy. Disponível em: https://www.atlanticcouncil.org/commentary/transcript/the-biden-white-house-plan-for-a-new-us-industrial-policy/. Acesso em: 12/09/2022.
Barro, R., Lee, J. (2013), A New Data Set of Educational Attainment in the World, 1950-2010. Journal of Development Economics, 104: 184-198. Disponível em: <http://www.barrolee.com>. Acesso em: 6/8/2022. DOI: https://doi.org/10.1016/j.jdeveco.2012.10.001
Marquetti, A; Maldonado Filho, E.; Miebach, A; Morrone, H. (2023), Uma interpretação da economia brasileira a partir da taxa de lucro: 1950-2020. Brazilian Journal of Political Economy. No prelo.
Miebach, A.; Marquetti, A; (2022), A distribuição funcional da renda no Brasil: 1947-2019. Nova Economia. DOI: https://doi.org/10.1590/0103-6351/7434
Pritchett, L. (2001), Where has all the education gone? World Bank Economic Review, 15(3): 367-91. DOI: https://doi.org/10.1093/wber/15.3.367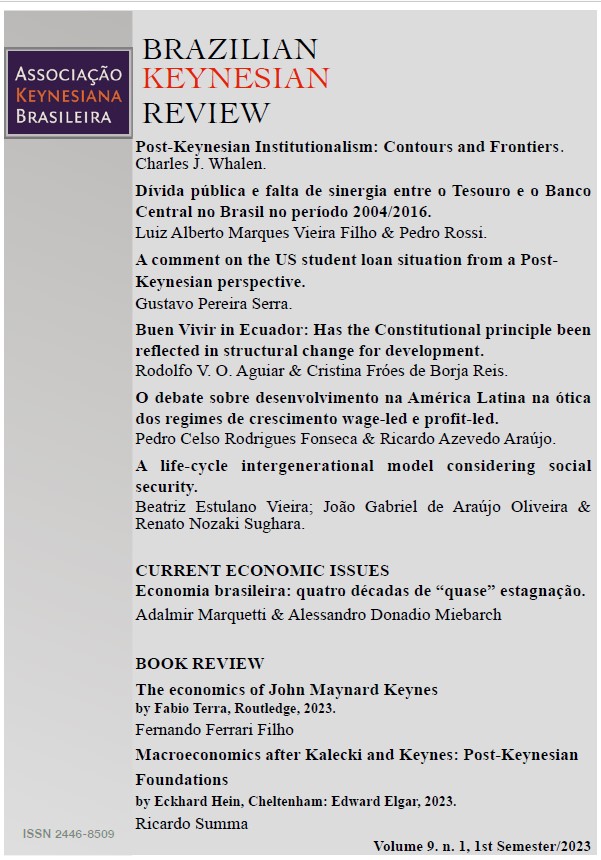 How to Cite
Marchetti, A., & Donadio Miebach, A. (2023). BRAZILIAN ECONOMY: FOUR DECADES OF NEAR STAGNATION. Brazilian Keynesian Review, 9(1), 158-169. https://doi.org/10.33834/bkr.v9i1.302
Section
Current Economic Issues
Copyright (c) 2023 Adalmir Marchetti
This work is licensed under a Creative Commons Attribution 4.0 International License.
Authors keep copyrights and concede to the Journal the right to the first publication, with the paper simultaneously licenced under the Creative Commons Attribution 4.0 International License which allows recognised author and journal work sharing.
Authors are authorized to assume additional contracts separately, for non-exclusive versions of the paper published in this journal (e.g.: publish in an instituional repository or as a book chapter) with the recogntion of authorship and initial publication in this journal.
Authors are allowed (and are estimulated) to publish and distribute their work online (e.g.: in institutional repositories or at their personal websites) at any point before or during the editorial process, once this may generate productive alterations on the paper, as well as increse the factor of impact and quotation of the published paper (please, see Free Access Effect)