Os desafios do investimento e da indústria no Brasil: um drama em seis atos
Fábio Henrique Bittes Terra

Professor Adjunto, Universidade Federal de Uberlândia
Abstract
Este short paper objetiva debater os problemas do investimento no Brasil pós-crise, quais sejam, sua dificuldade de superar a casa dos 20% do PIB e seu caráter volátil. Para tanto, o artigo caminha pela seguinte lógica: revisa-se a teoria da decisão de investimento de Keynes (1964) e, após isso, usa-a como referencial de apreensão e análise das dificuldades enfrentadas pela indústria no Brasil. Por entender-se o investimento industrial como o mais relevante para os ampliar e sustentar os investimentos em agregado, as dificuldades da indústria explicam os problemas percebidos na taxa de investimento do país.
Downloads
Download data is not yet available.
References
Confederação Nacional da Indústria (CNI), (2015). Índice de Confiança do Empresário Industrial.
Disponível em: http://www.portaldaindustria.com.br/cni/publicacoes-e-estatisticas/estatisticas/2015/01/1,40572/icei-indice-de-confianca-do-empresario-industrial.html. Acesso em março de 2015.
Federação das Indústrias do Estado do Rio de Janeiro (FIRJAN), (2014). Custo do Trabalho no Brasil. Nota Técnica da Diretoria de Desenvolvimento Econômico n. 4.
Federação das Indústrias do Estado de São Paulo (FIESP), (2014). Panorama da Indústria de Transformação Brasileira, 5a Edição.
Ipeadata, (2015). Dados de Macroeconômicos. Disponível em: www.ipeadata.gov.br. Acesso em março de 2015.
Keynes, John Maynard, (1964). The General Theory of Employment, Interest and Money, Nova York: HBS.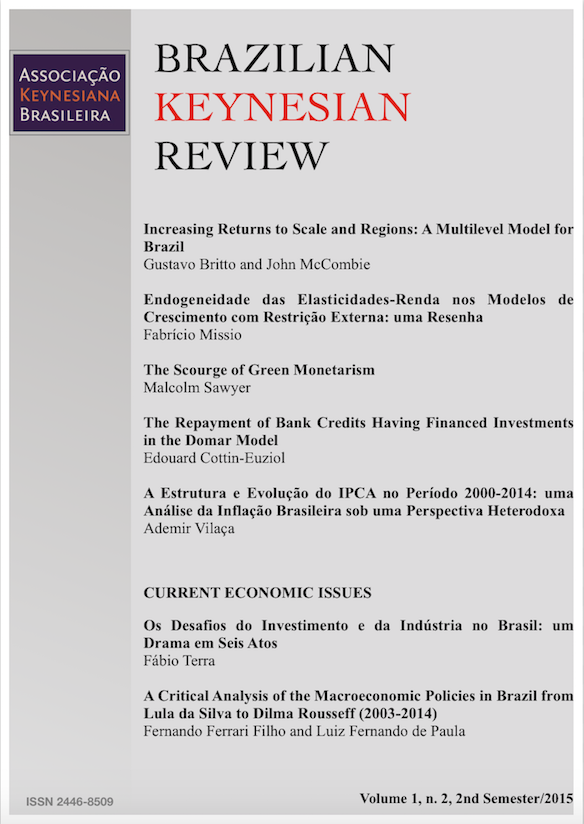 How to Cite
Terra, F. H. B. (2015). Os desafios do investimento e da indústria no Brasil: um drama em seis atos. Brazilian Keynesian Review, 1(2), 212-217. https://doi.org/10.33834/bkr.v1i2.35
Section
Current Economic Issues
Authors keep copyrights and concede to the Journal the right to the first publication, with the paper simultaneously licenced under the Creative Commons Attribution 4.0 International License which allows recognised author and journal work sharing.
Authors are authorized to assume additional contracts separately, for non-exclusive versions of the paper published in this journal (e.g.: publish in an instituional repository or as a book chapter) with the recogntion of authorship and initial publication in this journal.
Authors are allowed (and are estimulated) to publish and distribute their work online (e.g.: in institutional repositories or at their personal websites) at any point before or during the editorial process, once this may generate productive alterations on the paper, as well as increse the factor of impact and quotation of the published paper (please, see Free Access Effect)