A Importância do Setor Externo para a Dinâmica da Inflação Brasileira: uma estimação para o período 2001-2013
Karla Vanessa Batista da Silva Leite

Universidade Federal de Campina Grande

Jennifer Hermann

Débora Pimentel
Abstract
Partindo da hipótese de que, a partir das políticas de liberalização dos anos 1990 e 2000, os fatores externos ampliaram sua importância na dinâmica inflacionária doméstica, o presente artigo estima uma equação de inflação para a economia brasileira, no período compreendido entre 2001 e 2013, com foco nas variáveis do setor externo. A estimação tem por base analítica o modelo de inflação de Simonsen (1970) e foi feita através dos modelos de Vetores Auto Regressivos Estruturais (SVAR) e de Defasagem Distribuída (ARDL). Os resultados da análise econométrica, nos dois modelos estimados, apontaram para a importância da taxa de câmbio, dos preços externos e da volatilidade cambial na explicação da evolução da inflação brasileira, entre 2001 e 2013. 
Downloads
Download data is not yet available.
References
ARAÚJO, E.; MODENESI, A. M. A Importância do Setor Externo na Evolução do IPCA (1999-2010): uma análise com base em um modelo SVAR. In: XXVIII Encontro Nacional de Economia. Salvador. 2010b.
BELAISCH, A. Exchange rate pass-through in Brazil. FMI. Working Papers, nº 141. 2003.
BRAGA, J. A inflação brasileira na década de 2000 e a importância de políticas não monetárias de controle. In: 39º Encontro Nacional de Economia da ANPEC. Foz do Iguaçu. 2011.
BRAGA, J. A inflação brasileira na década de 2000 e a importância das políticas não monetárias de controle. Economia e Sociedade, Campinas, v. 22, n. 3 (49), p. 697-727, dezembro 2013.
DOORNIK, J. Autometrics. In: CASTLE, J.; SHEPHARD, N. The Methodology and Practice of Econometrics: A Festschrift in Honour of David F. Hendry. Oxford: Oxford University Press, 2009.
ENDERS, W. Applied econometric time series. 3. ed. New York: John Wiley&Sons, 2008.
ENGLE, F.; GRANGER, C. Co-integration and error correction: representation, estimation and testing. Econometrica, v. 55, p. 251-276, Março 1987.
FREITAS, F. N. P.; DWECK, E. The Pattern of Economic Growth of the Brazilian Economy 1970-2005: a demand-led growth perspective. In: LEVRERO, E. S.; PALUMBOAND, A.; STIRATI, A. Sraffa and the Reconstruction of Economic. New York: Palgrave Macmillan, v. 2, 2013. p. 157-198.
FUHRER, J. C. Inflation Persistence. Federal Reserve Bank. Working Paper, Nº 09-14. Boston. 2009.
GRANGER, C. Investigating causal relations by econometric models and cross-spectral methods. Econometrica, v. 37, p. 424-438, 1969.
GREENE, W. Econometric Analysis. 6. ed. New York: Macmillan , 2003.
HENDRY, D. F. Econometric methodology: a personal perspective. In: BEWLEY, T. F. Advances in econometrics. Cambridge: Cambridge University Press, 1987. Cap. 10.
HENDRY, D. F.; PAGAN, A. R.; SARGAN, J. D. Dynamic Specíficatíon. In: GRILICHES, Z.; INTRILIGATOR, M. D. Handbook of Econometrícs. Amsterdam: North-Holland, v. 2, 1984.
LEE, J.; STRAZICICH, M. C. Minimum LM unit root test with two structural breaks. Review of Economics and Statistics, v. 63, p. 1082-1089, 2003.
LOPES, F. L. Só um Choque Heterodoxo pode Derrubar a Inflação. Economia em Perspectiva. Conselho Regional de Economia de São Paulo. São Paulo. 1984a.
LUTKEPOHL, H. A new introduction to multiple time series analysis. Berlim: Springer Verlag, 2005.
MARTINEZ, T.; BRAGA, J. Crescimento liderado pelos salários, política monetária e inflação no Brasil. In: V Encontro Internacional da Associação Keynesiana Brasileira. São Paulo. 2012.
MODENESI, A. Regimes Monetários: Teoria e a Experiência do Real. Barueri: Manole, 2005.
RUBIO-RAMÍREZ, J.; WAGGONER, D.; ZHA, T. Structural vector autoregressions: Theory of identification and algorithms for inference. The Review of Economic Studies, v. 77, n. 2, p. 665-696, 2010.
SIMONSEN, M. H. Inflação: gradualismo versus tratamento de choque. Rio de Janeiro: Apec, 1970.
SIMS, C. Macroeconomics and Reality. Econometrica, v. 48, n. 1, p. 1-48, 1980.
ZIVOT, E.; ANDREWS, D. W. K. Further Evidence on the Great Crash, the Oil Price Shock and the Unit-Root Hypothesis. Journal of Business and Economic Statistics, v. 10, p. 251-270, 1992.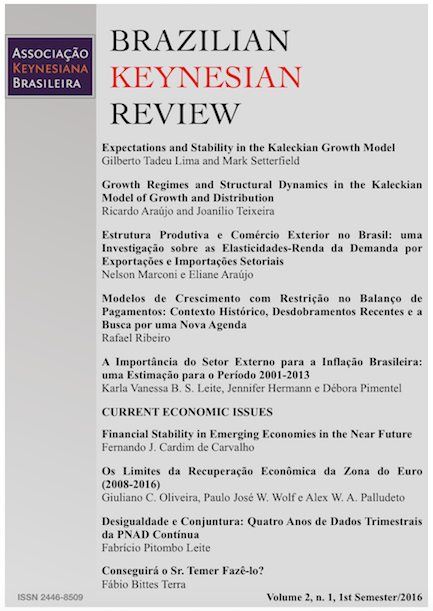 How to Cite
Leite, K. V. B. da S., Hermann, J., & Pimentel, D. (2016). A Importância do Setor Externo para a Dinâmica da Inflação Brasileira: uma estimação para o período 2001-2013. Brazilian Keynesian Review, 2(1), 88-119. https://doi.org/10.33834/bkr.v2i1.41
Authors keep copyrights and concede to the Journal the right to the first publication, with the paper simultaneously licenced under the Creative Commons Attribution 4.0 International License which allows recognised author and journal work sharing.
Authors are authorized to assume additional contracts separately, for non-exclusive versions of the paper published in this journal (e.g.: publish in an instituional repository or as a book chapter) with the recogntion of authorship and initial publication in this journal.
Authors are allowed (and are estimulated) to publish and distribute their work online (e.g.: in institutional repositories or at their personal websites) at any point before or during the editorial process, once this may generate productive alterations on the paper, as well as increse the factor of impact and quotation of the published paper (please, see Free Access Effect)